News / Calendar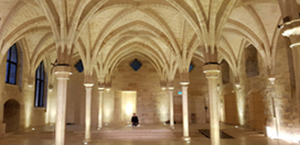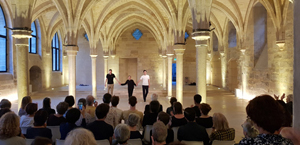 "Pièce pour le Collège des Bernardins" Raimund Hoghe, Luca Giacomo Schulte, Emmanuel Eggermont©Sara Dufour
"Lettere amorose, 1999 – 2017" was the first of three new pieces/projects which I've made this year. The creation "Lettere amorose, 1999 – 2017" is based on the piece "Lettere amorose" but focused on political letters – for example a letter from Yaguine Koita and Fodé Tounkara. In 1999, when I created in Brussels « Lettere amorose », the two boys from Africa tried to come to Europe in the wings of a plane. When Yaguine Koita and Fodé Tounkara, 14 and 15 years old, arrived in Belgium, they were found dead. With them they had a letter in which they describe the situation in Africa and their desire for a life in Europe. Now, 2017, people risk again their life and try to survive in Europe and the letter from 1999 seems to be written today. The premiere of "Lettere amorose, 1999 – 2017" was in April 2017 at La ménagerie de verre in Paris.
For the Symposium Inventur#2 at tanzhaus nrw in Düsseldorf I created in June a new Lecture performance, "Ich räume auf". In this work I comb through my extensive archive, present scenes from different pieces and talk about my work. In the same month I presented the third project of this year, "Je me souviens", at CND Centre National de la Danse in Paris-Pantin. "Je me souviens – I remember" is always different and connected with the venue in which I perform. In the version for the CND the dancer Emmanuel Eggermont and my artistic collaborator Luca Giacomo Schulte joined me on stage.
In 2017 we perform also two creations from last year, "Musiques et mots pour Emmanuel" and "La Valse", and "Songs for Takashi" from 2015. Also "An Evening with Judy" from 2013 is still on tour. My film "La jeunesse est dans la tête", a portrait of Marie-Thérèse Allier, created in 2016 for ARTE, was this year presented at Centre Pompidou in Paris during Vidéodanse and at tanzhaus nrw in Düsseldorf. You can watch the French and the German version on YouTube.
You'll always find updated schedules of my work on this website, which I've developed together with Jacqy Gantenbrink.
Raimund Hoghe, August 28, 2017
Performances May - October 2019
2019
top
May
3
"Projekt Bethanien, Berlin"
ASSEMBLE, Kunstquartier Bethanien, Berlin (D)
4
"Raimund Hoghe in conversation with Gabriele Brandstetter"
ASSEMBLE, Volksbühne Berlin (D)
15
"Canzone per Ornella"
Festival tanz nrw 19, Theater im Pumpenhaus, Münster (D)
18
"Lettere amorose, 1999 - 2019"
Festival tanz nrw 19, tanzhaus nrw, Düsseldorf (D)
24
"Canzone per Ornella"
Queer Zagreb / ZPC - Zagreb Dance Center, Zagreb (CRO)
July
17
"Songs for Takashi"
Zero Point Festival, Celetná Theatre, Prague (CZE)
September
6
"Avec les temps"
Kunststiftung NRW, Haus der Stiftungen, Düsseldorf (D)
October
18, 19
"Pas de Deux"
Esplanade - Theatres on the Bay, Singapore (SP)